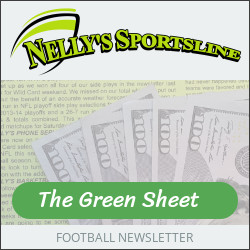 We have released a short off-season issue of the Green Sheet that includes the 2019 NFL Schedule Grid plus a coaching reference sheet to hang on to for the upcoming NFL season.
If you are not already signed up for the Green Sheet now is a great time to get on board as we plan to have several more off-season issues before the weekly subscription begins in late July.
Check out the first issue here – and save $10 on the full season subscription if you sign-up by May 10 using the COUPON CODE: MAY10
A $150 savings on the Nelly's Full Season Phone Service for the 2019-20 football season expires on May 1 and a $100 discount will expire on June 1 – the phone service includes the full Green Sheet subscription as well.